Having just finished the April, A-Z Challenge where the directive was to post about subjects that correspond to a letter of the alphabet, I thought "Hmm. How can I apply some of the ideas from the challenge to my own blog?". What I mean is, what if I had a reoccuring theme for certain days other then the initial intent of my blog? When reading through other challenge-takers blogs, I saw such things as "Wordless Wednesdays" where only pictures were posted on that day, or "Thoughtful Thursdays" where personal thoughts, or inspirational quotes were posted and I enjoyed the posts immensely!
So how does this translate to my blog? I stumbled across the blog, "Never Growing Old" and the "Meet Me On Monday" initiative. Every Sunday, "Java" (author of Never Growing Old) posts 5 questions, and it's up to me to post and answer them every Monday! With that said, here goes my first May, Meet Me on Monday:

1. What is your favorite kind of muffin?
Hmm...first question of my new "challenge" and I'm already stumped. I love warm, buttered fresh blueberry muffins (as well as banana nut).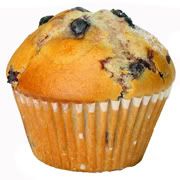 2. What was the first car you ever owned?
A purple, 4 door Chevy Cavalier (4 doors made it friend accessbile!)
3. Which TV Show were you sad to see end?
The Starter Wife - I loved Debra Messing!
4. What is your lucky number?

I obviously haven't found it yet, or I would have won the lottery by now! (Okay, it's really 7)
5. Pretzels or Potato Chips?
Pretzel Chips are the best of both worlds, but my most recent discovery of Pop Chips, makes my answer chips!